For Expertise on Harley Davidsons in Queensland, Australia
Deal with CONFIDENCE – Deal with INTEGRITY – Deal with QUALITY

Based on the Gold Coast of Queensland but servicing Australia wide, Quality Harleys, is the Internet Brand of Chiefs Performance P/L. Chiefs Performance P/L are Licensed Motor Vehicle Dealers who specialise in the sale of near new quality used, immaculate, late model, low mileage Harley Davidson motorcycles. Our Clients are based throughout Australia, transporting the bike to any main centre is not a problem and our transport provider delivers to most towns in Australia.
PASSIONATE about Harley Davidsons since 1981 and selling them since 1983, we consider that talking, riding and selling Harleys is all about having a laugh and a bit of fun along the way with the knowledge and model expertise gained over these last thirty years being readily available at your call. So if you are looking for a quality, late model Harley Davidson, call Chris on 0415 539 582 today.
It's not just about the right bike...
It has to be the right bike for YOU…
Chiefs Performance P/L, specialises in late model Harley Davidsons. Obviously these are highly prized vehicles and accordingly are matched to very discerning clients.

There are over twenty different models of Harley Davidson bikes and literally dozens of variations. Different models suit different Clients and we want to get the right bike under the right person. We are certainly not interested in pushing the hard sell. If the Harley model isn't right for you, we don't want you wasting your money on it – we want a great bike to find a matching owner, and a great owner to find a matching bike. This has come to be our trademark "Tailored' approach to the motor vehicle business throughout our different brands..
You may already know the exact model Harley Davidson bike you want to ride away on, or you may be still undecided… either way we will listen to your requirements and tailor a bike that best suits YOU. At Quality Harleys we always provide our customers with the right advice, excellent customer service and of course – QUALITY BIKES!
It's all about the customer service...
At Quality Harleys our "Tailored Bike" approach may well cost us in sales figures but one thing is for sure… our clients stay loyal. As far as we're concerned selling a person a bike – locally or Interstate – is the start of an ongoing friendship that lasts a good many years with many Clients keeping in touch, trading bikes back or upgrading in model or as years go by. Proudly we have many dedicated customers that love to come back for a chat as they pass through the Gold Coast. And why wouldn't they… They know we have been selling Harley Davidson bikes since 1983 so we really know our stuff!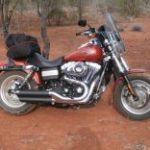 You may remember I bought a 2011 Sedona orange Fatbob from you a few years ago... I have since set it up to suit my needs and love it to bits. Some of the mods include a Dynojet tuner 25mm longer stainless Hagon shocks for performance and extra ground clearance Ikon front fork springs Some stainless bolts Dyna wide glide handlebars It's usually used as a street bike but it's awesome the way I can attach a Sundowner seat, sissy bar and screen to quickly turn it into a great tourer. We have done trips to Charleville, Bourke, Newcastle and other shorter ones. Thanks for all your help and a great bike...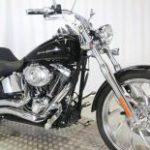 The Deuce is all I ever wanted, or needed and the service and professional ethics, skills and attitudes I found at Quality Harley was second to none! Don't bother looking at all the second hand Aussie questionable product out there, tell Chris what you want and leave it up to them! Before you know it, you too will experience the shear Joy of riding the bike of your choice and dreams and the whole experience will be an absolute blast! Thanks guys, big time. See you out there!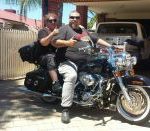 Just a quick message thanking you and the team at Quality Harleys for the assistance you gave me. The purchase of my 2007 RoadKing Classic was by far the easiest transaction I have had ever. Thanks to you and your team I am cruising around on the bike of my dreams instead of still sitting at home waiting for it to arrive. I will absolutely recommend your business to anybody interested in buying a harley, I have added a couple of pics of wife and I and I'm sure you will see the smile on our faces.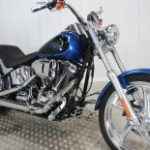 Thankyou for a very professional and great great service from start to finish guys... Top job, will pass on recommendations